starting
EUR 79,90
excl. VAT
starting
EUR 92,68
incl. VAT
starting
EUR 49,90
excl. VAT
starting
EUR 57,88
incl. VAT
starting
EUR 99,00
excl. VAT
starting
EUR 114,84
incl. VAT
starting
EUR 24,75
excl. VAT
starting
EUR 28,71
incl. VAT
starting
EUR 29,50
excl. VAT
starting
EUR 34,22
incl. VAT
starting
EUR 28,60
excl. VAT
starting
EUR 33,18
incl. VAT
starting
EUR 2,29
excl. VAT
starting
EUR 2,66
incl. VAT
starting
EUR 55,02
excl. VAT
starting
EUR 63,82
incl. VAT
starting
EUR 6,80
excl. VAT
starting
EUR 7,89
incl. VAT
starting
EUR 139,00
excl. VAT
starting
EUR 161,24
incl. VAT
starting
EUR 89,70
excl. VAT
starting
EUR 104,05
incl. VAT
starting
EUR 36,50
excl. VAT
starting
EUR 42,34
incl. VAT
starting
EUR 44,00
excl. VAT
starting
EUR 51,04
incl. VAT
The right diamond tools and diamond cutting discs for your project
The right diamond cutting discs are essential for precise cutting of granite, stoneware, natural stone and many other hard materials. With the right diamond cutting disc you will get clean cuts in various materials, even in very hard materials. If you also pay attention to the correct handling, diamond tools achieve an amazingly long service life. But which diamond cutting disc should you use when?
Cutting discs for dry and wet cuts
Should it be a wet or dry cutting disc? Both processes have their advantages. Especially in wet cutting, the workpiece does not suffer any heat damage due to the additional cooling and the service life of the cutting disc increases. In addition, less dust is generated during cutting.
This also works with a dry cutting wheel. This can also be used in wet conditions. On the other hand, you should never cut dry with a wet disc. Immediate wear and damage to the material would be the result.

The right diamond saw blade for you
When buying, pay attention to the different diameters and sizes of our disc holders. The disc should always fit on the angle grinder or the stone cutting machine. A further criterion is the scope of use: for professional use and intensive use other factors count than for occasional use.
With us you will find both - professional tools for construction and do-it-yourself accessories at affordable prices. Thanks to our extensive selection of diamond tools, every prospective customer will find a cutting disc that fully meets his requirements. Also take a look at our well thought-out sets. With them you can build up a basic equipment for the processing of different materials. If you are not sure which disc suits you best, we would be pleased to hear from you. Our specialists will advise you extensively and in detail. Because it is very important to us that you are fully satisfied with the products purchased from us. Good customer service is very important to us.
Buy Diamond Discs at Karl Dahm Online Shop
Buying diamond discs from Karl Dahm means clean cuts as a result of your work. Our diamond cutting discs are made by professionals for professionals. They are suitable for professional demands and offer highest quality for the consumer. With these diamond discs you can increase the service life and shorten your working time. Because these quality diamond cutting discs give you the best cutting speeds!
Diamond saw blades: Application area of the diamond discs
In our online shop you will find diamond cutting discs for every material.
Cutting
granite
stoneware
clinker
marble
glass
stove tiles
natural stone
artificial stone
concrete
brick
gypsum boards
tiles
Fireclay - and much more...
Depending on the application you need different diamond cutting discs. What is important here is always the material to be machined and which tool or machine you use.
What distinguishes Karl Dahm diamond cutting discs from other cutting discs is the quality! Trust in the experience of Karl Dahm. Each of our diamond cutting discs is tested before it is included in our product range. We are convinced that we can offer you the best service life and durability, as well as cutting accuracy and cutting speed, no matter for which material.
Only after we have tested the diamond blade ourselves is it included in our product range. We therefore guarantee an extensive range of different, high-quality diamond cutting discs. Thus you are equipped for every kind of material.
If you have special difficulties to cut a material or to cut a very hard tile, then of course it is possible to send us your material. We will test your material and then make a recommendation for the required diamond cutting disc.
It is also good to know that there are various possible uses for a diamond saw blade. It is very important to distinguish between diamond cutting discs for dry and wet cutting. In our experience, diamond cutting discs for wet cutting have a much longer service life. Because without wetness and thus additional cooling, the diamonds on the cutting disc wear out more quickly.
How can I increase the service life of diamond cutting discs?
In order to increase the service life of our wet cutting discs, our diamond sharpening stone, art. no. 20050, is suitable. With the help of the sharpening stone, the diamonds on the cutting disc are exposed again. All you have to do is clamp the cut-off wheel in your machine and immerse it briefly in the diamond sharpening stone. Attention, no water may be used for this. The diamond sharpening stone is used dry. Dip the disc into the sharpening stone only up to the segment height. Even the short cut in the sharpening stone exposes the diamonds on the cutting segments of the diamond cutting disc. The disc then cuts again sharply and quickly.
This process is only suitable for wet-cut slices. The sharpening stone is not suitable for dry cutting discs.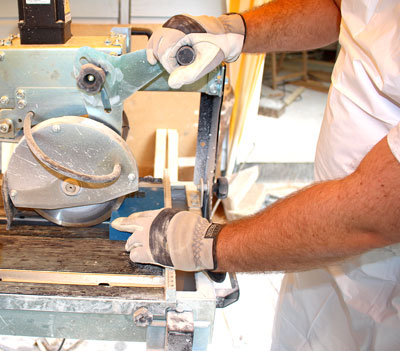 Do you have dry cutting discs and want to increase their service life? You can do this by letting the pane cool down sufficiently after each cut. Several pauses between the cuts reinforce this effect. In this way you avoid unnecessary heating of the material. In addition, regular cooling and pausing will result in less material dust. This keeps the disc sleek.
---
Do you have any questions or would you like personal advice about diamond cutting discs?
Call us or write us! Phone +49 8667 878-120 E-Mail: info@dahm-werkzeuge.de
The consultation before the purchase and the service in technical matters stands with us in the first place. Nearly all products are in stock and immediately available.
Let our diamond cutting discs and the quality of our diamond tools convince you!