0,05 Liter (EUR 32,18 / 100 ml)
starting
EUR 23,50
excl. VAT
starting
EUR 27,97
incl. VAT
starting
EUR 38,90
excl. VAT
starting
EUR 46,29
incl. VAT
starting
EUR 78,50
excl. VAT
starting
EUR 93,42
incl. VAT
starting
EUR 16,95
excl. VAT
starting
EUR 20,17
incl. VAT
starting
EUR 129,80
excl. VAT
starting
EUR 154,46
incl. VAT
Drill bits and dry drill bits
Drill bits - indispensable tools
Drill bits and dry drill bits are indispensable tools for the tiler and natural stone installer. Especially the use of extremely hard materials, such as porcelain stoneware, which is not only used on the floor but also in the wall area, requires high-quality drill bits. Tilers and installers use drill bits and dry drill bits to make holes for water connections, drains, sockets and for shower enclosures or sanitary attachments. An exact and clean drill hole is a sign of quality work. Especially with large formats, the consequential costs in case of damage due to the use of inferior drill bits are enormous. Drill bits are divided into two main groups, carbide tipped drill bits and diamond drill bits. Diamond core bits are again divided into wet diamond core bits and dry diamond core bits. Further distinguishing features are also the design, so mainly hollow drills, besides solid drills / blind hole drills, are used. Drill bits and dry drill bits are used with different drive units, the decisive factor is the type of tool holder and the required speed. For the tool holder there are drills with M14 holder, pin holder or thread holder 1/2 inch. Tungsten carbide drills (Dahm-Art.: 10322) are only to be used for softer materials, such as masonry, soft bricks, lightweight building blocks, plasterboard and stoneware tiles. Where the carbide-tipped circle cutter used to be very useful, diamond core bits are used today.
Diamond wet core bits
Diamond wet drill bits can be mounted in the drill stand or used as drills with wet drilling attachment (water flushing bush). The Dahm drill stand KDB-200 (Art.: 40103) offers the optimal conditions for an exact and fast drilling. The material is fixed exactly and the water supply by a water pump ensures maximum cooling. Particularly thin-walled drill bits with high cutting speed and high cutting quality are used (Dahm Art.: 50190/50100). These drill bits can, of course, also be used in a drilling machine, in which case they are drilled with a drilling jig. Karl Dahm offers several systems for freehand drilling, the installation set (Art.: 55310) or the water pressure tank with flushing bush (Art.: 50316). For safety reasons, a personnel safety switch (Art.: 21134) must always be used for wet drilling, if not already present on the drive unit. Compared to dry core bits, wet core bits have a considerably longer service life. A further advantage is the dust binding, especially when working in inhabited rooms. In the last few years, diamond dry core bits have also gained acceptance among tilers, drilling is possible without any major technical effort.
Diamond dry core bits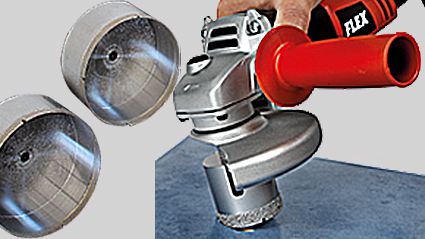 The dry core bits are mounted on an angle grinder, placed at an angle on the material and guided into the material with a slight wobbling motion. Diamond dry core bits must never be laid flat, otherwise the cooling is impaired and the service life is reduced. Dry core bits with small diameters (6-14mm) have additional paraffin in the shaft, this paraffin liquefies during drilling and provides better cooling. In general, the larger the diameter of the dry core bit, the better the cooling and thus the service life. The service life can be strongly influenced by correct handling. Diamond dry core bits are used at a speed of approx. 10000 rpm, do not apply too much pressure. Karl Dahm offers high-quality diamond dry core bits from 6- 100mm or complete sets (Dahm-Art.: 50235). The diameters 6-12mm are also offered with shaft adapter for use in cordless screwdrivers (Dahm-Art.: 50230-50233). No matter if wet or dry drilling is chosen, the quality of the used drill bits is decisive. Only high quality drill bits guarantee a good tool life and cutting quality and ensure satisfaction of user and customer.

Among the useful diamond tools are the drill bits. With them you can drill tiles or drill porcelain stoneware. Which work can be carried out with these useful tools and what you have to pay attention to, you will find out in detail below.
Drill bits with different diameters
In contrast to conventional drills, the crowns are suitable for making larger holes. Therefore, the diamond core bits have diameters of about 20 to 68 millimeters. These are suitable for the following applications:

Since different drill diameters are usually involved, it is worthwhile to buy a diamond core bit set. These sets are equipped with different crowns. Therefore it can be selected according to the respective requirements. The purchase of a complete set is also cheaper than buying individual tools of this type.
For which power tools are the diamond core bits suitable?
It is advantageous that the crowns are provided with an M14 thread. This allows them to be mounted on any angle grinder. These tools are also equipped with an M14 mount. Therefore, no additional power tools are required to use these diamond tools. An angle grinder, which is often referred to as a flex, is available anyway at every tiler and other craftsmen working in this branch.

The drill bit is simply screwed onto the thread holder and tightened. The work can already begin. What needs to be observed during the work is described below.
Drilling tiles and drilling fine pitch
After marking where a hole is required, all that remains is to hold the crown directly on it. After switching on the angle grinder, only a small amount of pressure needs to be applied. Then the crown will slowly eat through the tile. Drill holes up to 35 millimetres deep can be made without any problems.

If sparks occur during drilling, it is essential to reduce the pressure slightly. Otherwise there is a risk of overheating. Under certain circumstances this could lead to damage to the crown. At the very least, however, wear will increase. It is also very important to wear safety glasses when working.
Perform wet drilling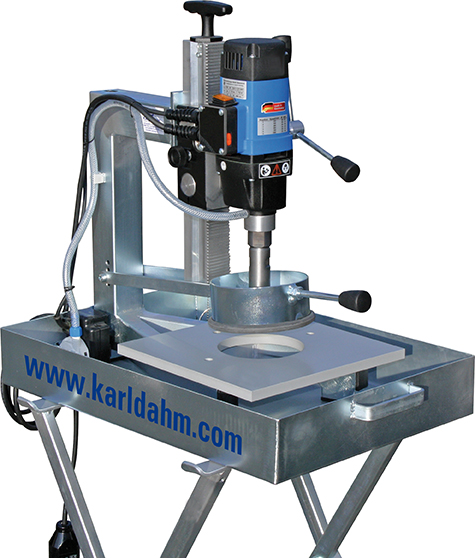 The diamond tools for making larger holes are also available for wet cutting. These are available in sizes between 20 and 100 millimeters. They can be used either with a drill or a cordless screwdriver. However, the tools must be equipped with a water connection. When cutting tiles with a wet drill bit, there is little heat development. Dust formation is also reduced. Nevertheless, suitable safety glasses should also be worn when working. Anyone who wants to drill into porcelain stoneware can do so at a depth of up to 60 millimetres.

Diamond-tipped drill bits are therefore available for numerous different applications. That is why such diamond tools are indispensable helpers for every tiling job. At Karl Dahm, these high-quality tools for tile drilling or porcelain stoneware drilling are available at a particularly good price-performance ratio. Convince yourself now of the extensive range of products and the good customer service.

Do you have any questions or would you like personal advice on drill bits?

Call us or write to us!

Phone +49 8667 878-0 E-Mail: info@dahm-werkzeuge.de

The satisfaction of our customers

Advice before the purchase and service in technical matters is our first priority. Nearly all products are in stock and immediately available.
Let us convince you of our drill bits and their quality!