starting
EUR 36,50
excl. VAT
starting
EUR 43,44
incl. VAT
starting
EUR 6,80
excl. VAT
starting
EUR 8,09
incl. VAT
starting
EUR 29,50
excl. VAT
starting
EUR 35,11
incl. VAT
starting
EUR 24,75
excl. VAT
starting
EUR 29,45
incl. VAT
starting
EUR 2,29
excl. VAT
starting
EUR 2,73
incl. VAT
starting
EUR 79,90
excl. VAT
starting
EUR 95,08
incl. VAT
starting
EUR 49,90
excl. VAT
starting
EUR 59,38
incl. VAT
starting
EUR 99,00
excl. VAT
starting
EUR 117,81
incl. VAT
starting
EUR 219,50
excl. VAT
starting
EUR 261,21
incl. VAT
starting
EUR 139,00
excl. VAT
starting
EUR 165,41
incl. VAT
starting
EUR 199,00
excl. VAT
starting
EUR 236,81
incl. VAT
starting
EUR 89,70
excl. VAT
starting
EUR 106,74
incl. VAT
High quality diamond tools for professional work
For clean cutting of very hard materials a diamond cutting disc is absolutely necessary. Due to its high quality, precise cuts are possible in granite, stoneware, natural stones and many other hard materials. When handled correctly, diamond tools achieve an exceptionally long service life. The prerequisite, however, is that the diamond cutting disc is selected to match the material in question.
Cutting discs for dry and wet cuts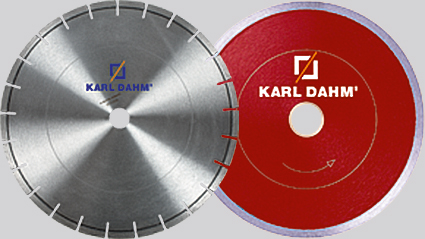 If you want to cut dry with a cutting disc, it must be of a slightly different nature than for wet cuts. Wet cutting with a special cutting disc is advantageous for some materials. The workpiece does not suffer any heat damage and the service life of the disc is increased. In addition, the formation of dust is reduced to a considerable extent. However, it is important that you do not mix up the discs by mistake. Although you can also cut wet with a dry cutting disc without any problems, you should never cut dry with a diamond cutting disc for wet cutting. This causes immediate wear and tear of the diamonds and can cause considerable damage to the material.
What should I pay attention to when buying?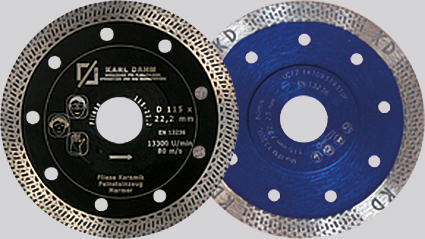 When purchasing, both the diameter and the size of the disc's receptacle are important. In any case, the disc should fit the existing stone cutting machine. Another criterion is the intensity of use. If only a few tiles are cut occasionally, the disc may have different characteristics than for professional use with intensive use.

If you are not quite sure which disc is best suited to your applications, simply contact us. Our specialists have a high level of competence and will advise you in detail and comprehensively. It is very important to us that you are completely satisfied with the products you buy from us. A good customer service is very important to us.
Why should you buy from Karl Dahm?
If you want to cut dry with a cutting disc or wet with a cutting disc, you will find the corresponding products in our shop. These are of high quality and are still available at reasonable prices. Therefore, the price-performance ratio at Karl Dahm is also above average.

But not only the favourable price is decisive. The extensive selection of diamond tools is also very advantageous. For this reason, every prospective customer will find a cutting disc that fully meets his requirements. It is also advantageous that practically assembled sets of diamond cutting discs are also available. This provides the customer with basic equipment for processing different materials.
The special customer service should also be mentioned as another important argument. All these reasons speak for buying the required diamond tools from this professional supplier.
Diamond saw blades and diamond discs buy in the Karl Dahm Online Shop
Buying diamond saw blades and diamond discs from Karl Dahm means
Clean cuts as the result of your work, our diamond cutting discs as well as diamond discs are suitable for professional demands, because they offer the highest quality for the consumer. With these diamond discs, they achieve exceptionally long service lives when used correctly. Buy your diamond cutting discs from now on always from Karl Dahm and you will shorten your work by best cutting speeds of these quality diamond cutting discs and diamond blades.
Diamond saw blades, diamond discs and their field of application
Diamond saw blades and diamond discs for cutting granite, stoneware, clinker, marble, glass, stove tiles, natural stone, artificial stone, concrete, brick as well as plasterboard, tiles, fireclay and much more. It is always important to distinguish for which exact application I need a diamond cutting disc. Important here is always the material and for which tool or machine the cutting disc should be used. The quality of all our diamond cutting discs is decisive. Trust in the experience of Karl Dahm. Before being included in our product range, each of our diamond cutting discs is tested for service life and durability as well as cutting accuracy and cutting speed for a wide variety of materials. Only when the diamond blade has passed this hardness test in our specially created test workshop is it included in our product range. We therefore guarantee a comprehensive range of different diamond cutting discs, so that you are prepared for any type of material. If you have particularly difficult materials to cut or particularly hard tiles to cut through, it is of course also possible to send us your material. We will then test it and recommend the diamond cutting disc you need. Please note that there are different applications for diamond cutting discs. It is particularly important to distinguish between diamond cutting discs for dry cutting and wet cutting. From long experience, the durability of wet cut diamond discs is much longer. Dry cutting means that the individual diamonds wear out faster.
How can I increase the service life of my diamond cutting discs?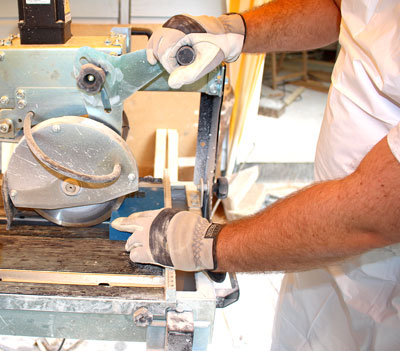 For wet cutting discs, our diamond sharpening stone, Art. 20050 is perfectly suited to expose the diamonds on the cutting disc again. To do this, clamp the wet cut cutting disc in the machine and briefly dip into the diamond sharpening stone. Please note: No water must be used to sharpen the diamond cutting disc, the diamond sharpening stone must be used dry. Only immerse the disc in the sharpening stone up to the segment height. By cutting into the sharpening stone, the diamonds on the cutting segments of the diamond cutting disc are exposed again and the disc cuts sharply and quickly again. (The sharpening stone is not suitable for dry cutting discs).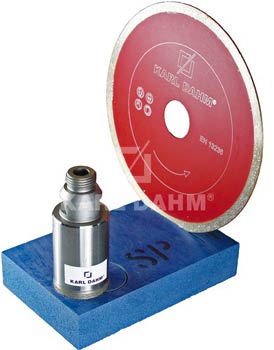 >> Here you will find the diamond sharpening stone for wet cutting discs

You can increase the service life of dry cutting discs by allowing the discs to cool down after each cut. If you do not cut for too long without a break, the material will heat up and the diamonds will accumulate material dust and the disc will lose its cutting ability faster.

Do you have any questions or would you like personal advice about diamond cutting discs?

Call us or write to us! Phone +49 8667 878-0 E-Mail: info@dahm-werkzeuge.de

The satisfaction of our customers

Advice before the purchase and service in technical matters is our first priority. Nearly all products are in stock and immediately available.

Let us convince you of our diamond cutting discs and the quality of our diamond tools!