starting
EUR 49,90
excl. VAT
starting
EUR 57,88
incl. VAT
starting
EUR 29,52
excl. VAT
starting
EUR 34,24
incl. VAT
Floor cutter at Karl Dahm
Discover different floor cutters and suitable accessories in this section.
Convince yourself of our diamond cutting system, item no. 40738! Because from now on: Dust-reduced and precise work. The big advantage of the floor cutter, the diamond cutting system, is the viewing window, which gives you a good view of the cut surface. Furthermore you protect your health by the integrated dust extraction! The sophisticated guide rail enables precise working - for accurate cuts. Furthermore, you can easily dip the material to be processed at any point. The diamond cutting system consists of the following items:
Diamond cutting machine (complete in Systainer)

Guide rail (1,400 mm)

1 x diamond cutting disc 125 mm
The technical data of the floor cutter:

Cutting depth 27 mm / cutting depth on guide rail: 23 mm

Weight hood/ system: 2.2/ 4.1 kg

Disc diameter: 125 mm

Output: 1.400 W

Speed (idling): 11,000 min-1

Connection dust extraction Ø: 36/ 27 mm
When using the floor cutter, take care not to work in wet and damp rooms. Likewise, do not work in rain, snow and fog or in rooms where there is a risk of explosion. Also make sure to check the device, the cable and the plugs. Also check the flange and the clamping nut - these must be tightened firmly! When installing the cut-off wheel, make sure that the direction of rotation is correct.
Another floor cutter is the Flex Diamond Wet Stone Cutter, art. no. 40731, a new, modern version of this product which is even suitable for jolly cuts. The product is ideal for window sills, facade panels, terrazzo tiles, joint renovation, garden and landscaping and worktops. It also has a powerful motor for continuous use. The technical data of the floor cutter: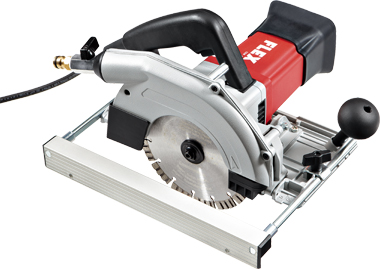 cutting depth: 60 mm

Speed: 6200 rpm

blade diameter: up to 180 mm/ 22.2 mm inner diameter

Power consumption: 1400 watts

Weight: 4,5 kg
The basic equipment includes: diamond cutting disc, key for tool change, parallel lay, plastic systainer. There is also an infinitely variable cutting depth adjustment from 15 to 60 mm. Precise cuts in natural and artificial stone slabs up to 60 mm. In addition, this floor cutter has a light metal protective cover and a guide plate. It is a wet stone cutter, therefore a sufficient water supply is very important to cool the diamond cutting disc effectively. A PRCD personal protection switch is integrated in the power cable.
The accessories for the floor cutter Flex Diamond wet stone cutter, art. no. 40731:

Guide rail for diamond wet stone cutter, art. no. 40732

Connector for guide rails of the diamond stone cutter, art. no. 21353
Wet separation set, Art. 40690
Convince yourself of our complete wet cutting set, art. no. 40690, a floor cutter, with which you benefit from absolute dust-free cutting of joints. This product is an improved version of the wet cutting set. The set consists of a wet cutting machine with a diamond blade DM 110 mm, a personal protection switch and a water pressure tank. You get all this for a favourable complete price.

The product also has a brass water fork and a stopcock for water regulation! Particularly suitable for renovation work and excellent for working with tiles and natural stone. In addition, the floor cutter is a special machine for cutting joints. The machine can be disassembled quickly and is easy to transport. The floor cutter is extremely resilient due to its reinfor
ced motor power.

The technical data of this floor cutter:
Power: 1250 W/ 230 V

cutting depth: 33 mm

Speed: 130000 rpm

weight: 3,3 kg
Of course you can also buy the individual parts for the floor cutter in our assortment. You can also find these in our floor cutter category.

Wet cutting machine, item no. 40671

Water fork, item no. 21290
Akuu angle grinder Power, part no. 40775
We also offer you in our Karl Dahm floor cutter section our rechargeable angle grinder Power, item no. 40775. Use the many great advantages of this product:
Very handy, compact and ergonomic

Versatile use for a wide range of materials

Simple disc change

Long-life battery (12 V), powerful motor

Easy disc change due to spindle lock

The scope of delivery includes: 1 x battery angle grinder, 1 x Li-Ion battery, 1 x quick charger,
1 x plastic protective cover, 1 x carbide cutting disc, 2 x stainless steel cutting discs, 1 x diamond cutting disc Allrounder art. no. 50774, 1 x transport case with inlay.
The use of the floor cutter or the cordless angle grinder is primarily for notching tiles and porcelain stoneware and for joint cutting. This floor cutter can be used in both civil engineering and construction as there is no disturbing network cable in the way. Therefore it is also suitable for use on building sites, large halls or outdoor work. Make sure to wear the prescribed protective clothing, i.e. protective gloves and goggles, when using the product. In this way you avoid unnecessary injuries. The removed material can be accelerated considerably by the high centrifugal forces of the cordless angle grinder.


Do you have any questions or would you like personal advice on floor cutters? Our employees are at your disposal with words and deeds! Please contact us.

E-mail: info@dahm-werkzeuge.de Phone: +49 (0) 8667/ 878-0 WhatsApp: +49 (0) 176 1000 1616