starting
EUR 29,52
excl. VAT
starting
EUR 34,24
incl. VAT
starting
EUR 17,06
excl. VAT
starting
EUR 19,79
incl. VAT
starting
EUR 11,85
excl. VAT
starting
EUR 13,75
incl. VAT
Multi-function oscillator buy at KARL DAHM
Floor cutter for cement and silicone from Makita exclusively at Karl Dahm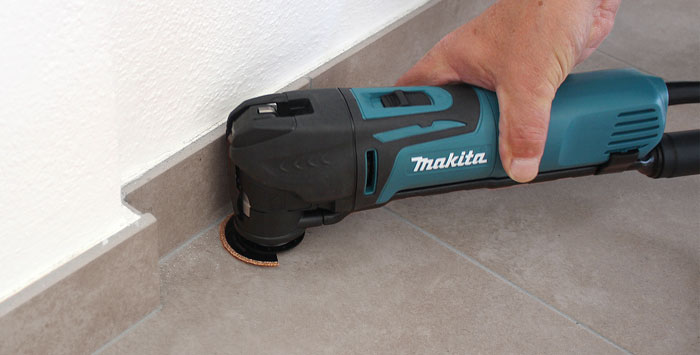 Multifunction oscillator (Art. 41809) can be equipped with different saw blades and knives. This type of device, which is popular not only with tilers, is also known as a multifunctional device.
Application areas of the multifunction oscillator from Makita
The multifunctional oscillator (Art. 41809) is used by drywallers and carpenters as well as in the automotive industry. The Oscillator is a universal helper for many do-it-yourselfers. Compared to an angle grinder with a rotating diamond cutting disc, this type of device oscillates, i.e. the drive head carries out an oscillating movement. The number of oscillations can be regulated electronically, depending on the intended use of the floor cutter.
The main advantages of this drive system are the compact and handy design, the relatively low dust generation and the working in corners with so-called segment cutters. With the multifunctional oscillator (Art. 41809) cement, marble and epoxy joints can be cut without any problems. Due to the oscillating movement there is no danger of damaging adjacent slabs.

The Multifunction Oscillator (Art. 41809) can be used with different attachment tools. The main field of application is the ripping and cutting of old, damaged joints or the ripping of joints during tile renewal. For this purpose diamond joint cutters are used, which are available in two types. One is the round type and the segment saw blade. A distinction is made between 1.2 and 2.2 mm wide cutters.
But also for wood and other materials the multifunctional oscillator can be used. For example, door frames can be shortened quickly and precisely, or openings can be created in worktops by dipping. For sanding you can use carbide sanding plates, sandpaper or sanding and polishing pads.
The device has a compact design and therefore a small gripping dimension, the good bearing of the gear head ensures low noise and minimal heating. The oscillator is equipped with a quick clamping system, i.e. by folding up a clamping lever, a screw plug is released and the attachment tool can be removed, additional mounting tools are not required. Thus, the attachments of the Multifunction Oscillator (Art. 41809) can be changed quickly and easily.
Technical data:
Motor: 230 V, 320 Watt
Vibrations/minute: 6.000 - 20.000
length: 283 mm
Weight: 1,6 kg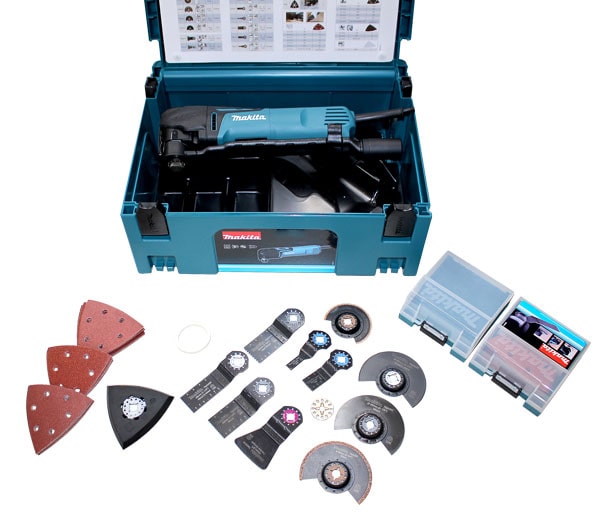 In addition to diamond joint cutters in segment form, there are also diamond joint cutters in round form. The segmented diamond joint cutters (Art. 40870, 40825) are mainly used in places that are difficult to access and in corners where the round diamond joint cutter (Art. 40871) would fail. Especially for hard wood, soft wood and all other wood materials the E-Cut-Longlife knives (Art. 41861 ff.) are very suitable for the cement and silicone joint cutter. Also recommended for plastics and plasterboard. The E-Cut-Longlife knives are available in four different cutting widths.
Damaged silicone or acrylic joints are quickly removed with the mushroom-shaped knife (Art. 40823). It is ideally suited for indoor and sanitary use and is available in a practical 5-pack.
For removing tile adhesive, or cleaning concrete surfaces and facades with the multifunctional oscillator, the carbide grinding plate (Art. 40819) is particularly suitable. The grinding plate, available in two different sizes, is equipped with a special grit, which removes adhesive residues or similar materials effectively and quickly.
Do you have any questions about our Multifunction Oscillator (Art. 41809)? Then call us or write to us.

Our team will be happy to help you!

Phone: 08667 878-0
info@dahm-werkzeuge.de

Order before 14 o'clock and 98% of your goods will leave our premises the same day! Fast delivery and best customer service are a matter of course for us.
Your team from KARL DAHM