starting
EUR 7,90
excl. VAT
starting
EUR 9,16
incl. VAT
starting
EUR 7,35
excl. VAT
starting
EUR 8,53
incl. VAT
starting
EUR 9,50
excl. VAT
starting
EUR 11,02
incl. VAT
starting
EUR 8,60
excl. VAT
starting
EUR 9,98
incl. VAT
0,4 Liter (EUR 2,02 / 100 ml)
starting
EUR 494,50
excl. VAT
starting
EUR 573,62
incl. VAT
2 item (EUR 15,63 / item)
2 item (EUR 80,62 / item)
2 item (EUR 80,62 / item)
Accessories and spare parts for tile cutters - Best service from Karl Dahm
Accessories or spare parts for tile cutters are always needed. Since we develop and manufacture our tile cutters ourselves, we can offer you every component of your Karl-Dahm tile cutter at any time. Likewise, every accessory and spare part fits on every ideal or high line tile cutter from Karl Dahm. So you can expand your High-Line-Tile Cutter e.g. with a new breaking device (Art. 11325) or your Ideal-Tile Cutter with transport wheels (Art. 11382) at any time!
Accessories and spare parts - quality down to the smallest part
As with the Karl-Dahm tile cutters, you can naturally expect the highest quality in terms of spare parts and accessories. Only at Karl Dahm can you obtain original spare parts and accessories that perfectly match your tile cutter and guarantee its functionality. Accessories and spare parts for the Ideal tile cutter, for example, are generally guaranteed for 10 years after purchase. So you can enjoy your tile cutter for a long time.
Accessories and spare parts - Karl Dahm Fliesenschneider live long!
If you buy a tile cutter of the High-Line or Ideal series from Karl Dahm, you can look forward to a long cooperation with your tile cutter. Should the rare case occur that something breaks, we will try to remedy the situation as soon as possible. Just give us a call and tell us the part of your tile cutter that has broken. We will immediately supply you with the required spare part or accessories for your tile cutter. It is designed in such a way that you can replace and reinstall the part yourself. However, if you do not dare to do it yourself, you are welcome to send us your tile cutter and have it professionally repaired by our customer service. Contact us and together we will find the best solution and the fastest way to get you back to your fully functional tile cutter.
Accessories and spare parts - Every part is crucial!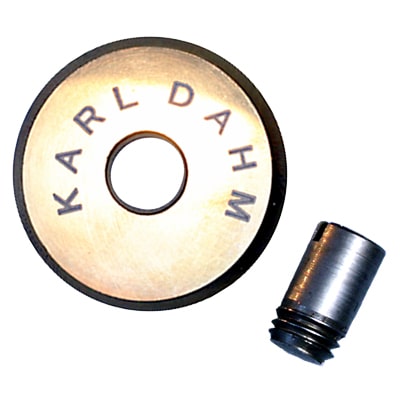 From the axle for a carbide spare wheel to the complete guide rail - all accessories and spare parts and are in stock and thus always available for you. In this section you will find all accessories and spare parts that make your tile cutter complete again or add one or the other part.
For example, if you want to extend your High-Line tile cutter with a new breaking device, this is possible without any problems. With the High-Line breaking device you can easily break tiles up to 16 mm, just like with the Dahm Superknacker (Art. 10990).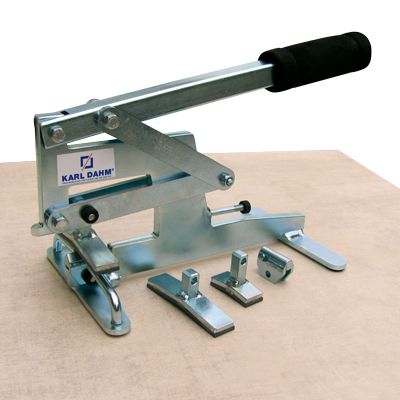 Also our cutting wheels made of hard metal (art. 10354) or with additional titanium coating (art. 11309 for high line and ideal tile cutters) cut even the hardest materials, thanks to special grinding. For sensitive glazes we recommend our High-Line fine cutting wheel (Art. 11363) and Ideal fine cutting wheel (Art. 10383)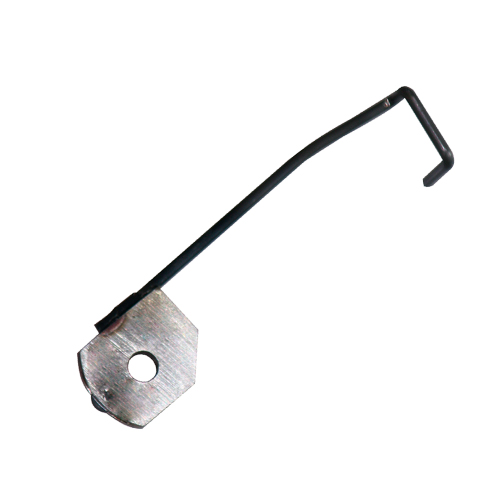 Accessories and spare parts - Do you have wishes, suggestions, ideas?
When working with your tile cutter, you always come into a situation where you are forced to make a cumbersome movement, a difficult process or simply have too little contact surface, etc.? You have not found the appropriate accessories or spare parts in our catalogue or in our online shop, but you would have a solution for the problem? Perhaps you are one of many who have the same problem.
Give us a call! We are grateful for any idea or suggestion from our customers. This is the only way we can constantly improve our products and our service! Under the telephone number 08667 878-0 you can reach one of our employees from Monday to Friday, who will be pleased to deal with your request.
The satisfaction of our customers is important to us! Just as we have made it our task to make your work as easy as possible. Together with you, the men and women who apply and use our products every day, we can make this happen!
Do you have any questions or would you like personal advice about tile cutters?
Call us or write to us!
phone +49 8667 878-0
e-mail: info@dahm-werkzeuge.de
The satisfaction of our customers
Advice before the purchase and service in technical matters is our first priority. Nearly all products as well as spare parts, etc. are in stock and immediately available.
Let our tile cutters and their quality convince you!