starting
EUR 23,90
excl. VAT
starting
EUR 27,72
incl. VAT
starting
EUR 38,46
excl. VAT
starting
EUR 44,61
incl. VAT
2 item (EUR 11,54 / item)
starting
EUR 36,90
excl. VAT
starting
EUR 42,80
incl. VAT
starting
EUR 128,80
excl. VAT
starting
EUR 149,41
incl. VAT
starting
EUR 29,80
excl. VAT
starting
EUR 34,57
incl. VAT
starting
EUR 7,50
excl. VAT
starting
EUR 8,70
incl. VAT
starting
EUR 2,90
excl. VAT
starting
EUR 3,36
incl. VAT
starting
EUR 2,19
excl. VAT
starting
EUR 2,54
incl. VAT
starting
EUR 3,55
excl. VAT
starting
EUR 4,12
incl. VAT
0,2 kg (EUR 2,89 / 100 g)
0,05 kg (EUR 4,50 / 100 g)
Measuring instruments, spirit level and moisture meter
Measuring instruments, in particular the spirit level and the moisture meter, are part of every tiler's basic equipment.
Measuring instruments in their application
In addition to mechanical measuring tools, electronic measuring instruments, such as laser measuring devices, are playing an increasingly important role. Other electronic measuring instruments used on the construction site are: electronic inclination spirit levels, electronic hose spirit levels, moisture meters, air humidity and temperature measuring instruments and measuring instruments for checking the condition of the subsoil (subsoil hardness measuring instrument). Lasers are divided into soil lasers, cross line lasers, rotation lasers and soil testing lasers. A laser distance measuring device determines length, area, volume in seconds and is equipped with numerous additional functions. Some laser rangefinders are offered with Bluetooth technology, so that measurement results can be transferred wirelessly and error-free to Pocket PCs, laptops or PCs.
Use of a spirit level
Despite modern laser technology, the spirit level in its various versions is an important and often used tool for floor and wall applications. The measuring instruments include, in addition to the measuring rod and spirit level, measuring and marking gauges, touch templates, fixed angles, adjustable angles, setting gauges, measuring wedges, hole gauges, angle bevels and much more.
Spirit level - a classic
The spirit level is still the classic, in former times mostly made of hard wood, today's spirit levels are made of aluminium or plastic. Beside the typical profile spirit level, in different lengths, there are also 3-arm spirit levels, mini spirit levels, magnetic spirit levels, flexible spirit levels, laser spirit levels, inclination spirit levels (mechanical and electronic), and tube spirit levels.
Spirit level - the quality criteria are decisive
A spirit level for professional use should have an accuracy of 0.5mm/m. An important quality criterion is the vial design. Bubble and spirit level should be easy to read, scratch-resistant and UV-resistant. Some spirit levels have vials with magnifying lenses or the vials can be readjusted or exchanged, as with the Goldpunkt spirit level by Karl Dahm. Another distinguishing feature of the individual types of spirit levels is the profile. There are rounded, sharp-edged or X-shaped spirit level profiles. The spirit level can also be designed for specific applications, e.g. for rough use (e.g. paving), particularly stable and impact-resistant armoured spirit levels or a marking spirit level for the plumber. Here, the distances are measured, transferred and marked with the help of marking slides. The stove builder uses small, handy pottery spirit levels or inclination spirit levels with adjustable (rotating) vials.
Moisture meter in use

The moisture meter determines the readiness of the screed for laying. The legally defined limit values must be observed in order to avoid later complaints. These limit values can be determined with electronic building moisture meters, moisture indicators or with CCM measuring instruments. The electronic building moisture meter works according to the resistance measurement method with electrodes or by means of a high-frequency field.
Moisture meter in the application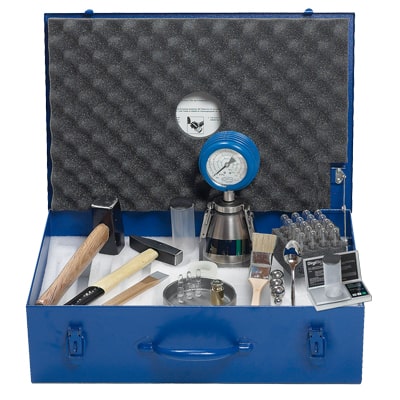 The CCM measurement (calcium carbide method) is based on the chemical reaction of calcium carbide (moisture-sensitive, granular) in the calcium carbide ampoule with water (from sample) and forms acetylene (gaseous) and calcium hydroxide (alkaline, powdery). The increase in pressure is reflected in the displayed value, the indication is either mechanical (pointer) or digital (digital manometer), the determined residual moisture is directly displayed in CM%. In order to obtain a usable proof, a documentation by means of a measuring protocol is to be carried out. With the digital manometer it is possible to print out the measuring protocol immediately by connecting a printer. A useful moisture meter for pre-measurement is the Hydromette Compact B, with which one can determine in advance, non-destructively, whether a CCM measurement is worthwhile, i.e. whether I am in the limit range. Measuring instruments can also be a locating device, like the CPM monitor. This shows by means of discoloration at which points in the screed there are heat sources (e.g. underfloor heating). Professional work is not possible without measuring instruments, spirit level and moisture meter!
Our quality classic - Goldpunkt spirit level Dahm
Top quality spirit level


Gold dot spirit levels KARL DAHM


High-quality, sharp-edged aluminium profile for shadowless positioning and best readability e.g. when using measuring wedges
Smooth, dirt-repellent, gold-coloured anodised profile that does not rub off on sensitive tile surfaces
Highest durability due to adjustable plumb and spirit levels. You can readjust the spirit level yourself immediately in case of dimensional inaccuracies. The vials are also interchangeable.
This spirit level will last a craftsman's lifetime
Sola spirit level - the professional among spirit levels
25 % faster, 25 % more accurate, 45 % better

Advantages of this spirit level:
Spirit level available in the sizes 40 cm, 60 cm, 80 cm, 100 cm, 120 cm, 150 cm, 180 cm and 200 cm
From a length of 120 cm the spirit level has 3 level
Better readability of the bubble level through more contrast
increased measuring precision of this spirit level
Readable over head possible
ergonomically shaped aluminium profile with thermoresistant precision vials
Horizon level with magnifying glass effect and 30% magnification
The stable and inexpensive spirit level:


Spirit level Stabila - Aluminium spirit level Art. No. 10040 - 10047 - Exclusive by Karl Dahm
Powder-coated - Made in Germany
Strong in excess lengths, robust and precise
Scratch-resistant and resistant to cement water
Highest accuracy 0,5mm/m
Very light and handy
Outstanding quality and highest durability

Do you have questions or would you like personal advice about measuring instruments and spirit levels?
Please call us or write us!
phone +49 8667 878-0
e-mail: info@dahm-werkzeuge.de
The satisfaction of our customers
Advice before the purchase and service in technical matters is our first priority. Nearly all products are in stock and immediately available.
Let our measuring instruments and spirit levels and their quality convince you!