starting
EUR 8,95
excl. VAT
starting
EUR 10,38
incl. VAT
starting
EUR 9,85
excl. VAT
starting
EUR 11,43
incl. VAT
BG Bau can buy subsidized products from KARL DAHM and get up to 50% of the purchase price refunded
We always strive to make our customers' everyday life on the construction site as safe and easy as possible with the help of our tools.  At KARL DAHM you will only find products that have been thoroughly tested and found to be safe.

Support here comes from BG Bau - the Employers' Liability Insurance Association of the Construction Industry.  The BG Bau promotes occupational safety and health protection in German companies and on construction sites.  This includes not only accident prevention, but also health protection and preventive safety measures.

Members of the BG Bau benefit from accident insurance for their employees, as well as from special benefits that make membership quite interesting.
One of these BG Bau services is the promotion of ergonomic and also practical products that make work easier and protect the health of our customers.
BG Bau subsidized products from KARL DAHM
Customers of KARL DAHM know that we place the highest value on the quality and safety of our tools. Health protection should be the top priority for every tiler. Many products in the KARL DAHM range support you in your work and in maintaining your health. Selected products are additionally promoted by the BG Bau. For these products you can get up to 50% of the purchase price refunded.
BG Bau subsidy for the KARL DAHM Universal Work Table Art. 11997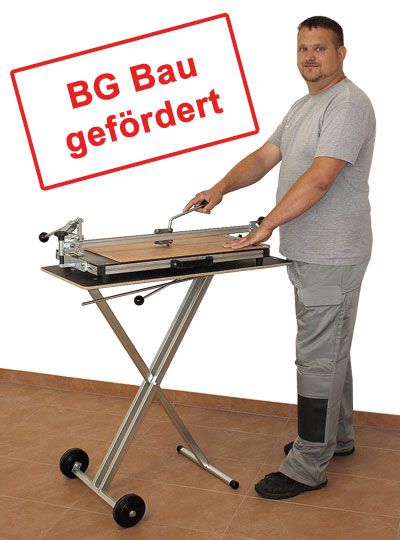 The tiler's eternal suffering is the wrong working posture. But often there is no other way than to work on the floor while kneeling.

The Universal Work Table is designed to make some of these jobs easier. A standing work posture that is easy on the back prevents damage to the spine and intervertebral discs. The height-adjustable work table is perfect for cutting tiles while standing, for example. It fits all standard tile cutters up to a cutting length of 720 mm. It is also perfectly suitable for other, smaller jobs, because the support surface offers enough space for your tools.
The advantages of the universal work table from KARL DAHM:
infinitely height adjustable from 70-90 cm -> individually adjustable to any body height
large support surface for your tools (90 x 38 cm)
suitable for all commercial tile cutters up to cutting length 720 mm
can be folded quickly and easily with just one hand
fits in every trunk
stainless galvanized parts
large rubber wheels for easy relocation
safe stand is guaranteed

When purchasing the Universal work bench, you will receive an application form from BG Bau. If you are a member of BG Bau, you can fill in this form and send it to BG Bau. Your purchase price will in most cases be refunded up to 50%.

Click here for the Universal workbench Art. 11997
BG Bau subsidy for the KARL DAHM aluminium work platform Art. 11004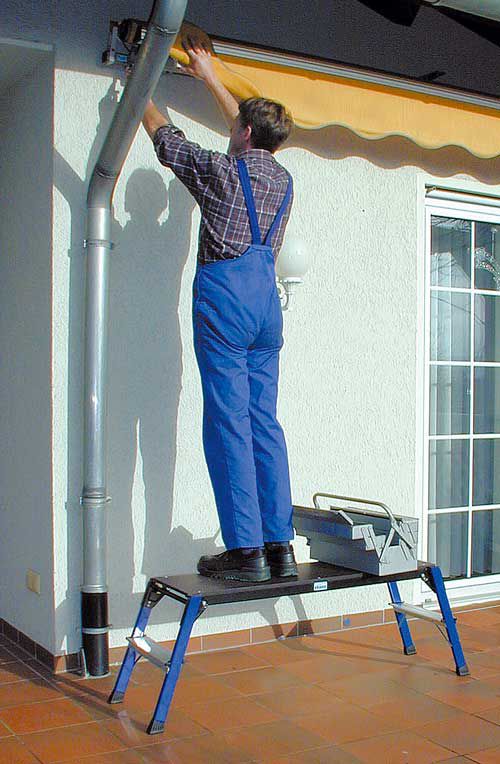 How often do you experience it that you "just climb on the beverage crate" to do something that is just out of reach. Here an accident has happened quickly! The crate topples over, you fall and most likely get hurt. Such accidents and their often far-reaching and unforeseen consequences can and should be avoided.

With the KARL DAHM work platform, you are much safer and better off.

It is quickly at hand and just as quickly assembled.
The advantages of the work platform Art. 11004
non-slip, large standing surface, which is waterproof
integrated folding lock for a safe stand
four large, non-slip and floor-protecting foot caps
quick and easy to fold for space-saving storage
made of light aluminium
Click here for the aluminium work platform Art. 11004
BG Bau Conveyance for special vacuum cleaners class M from FLEX Art. 40569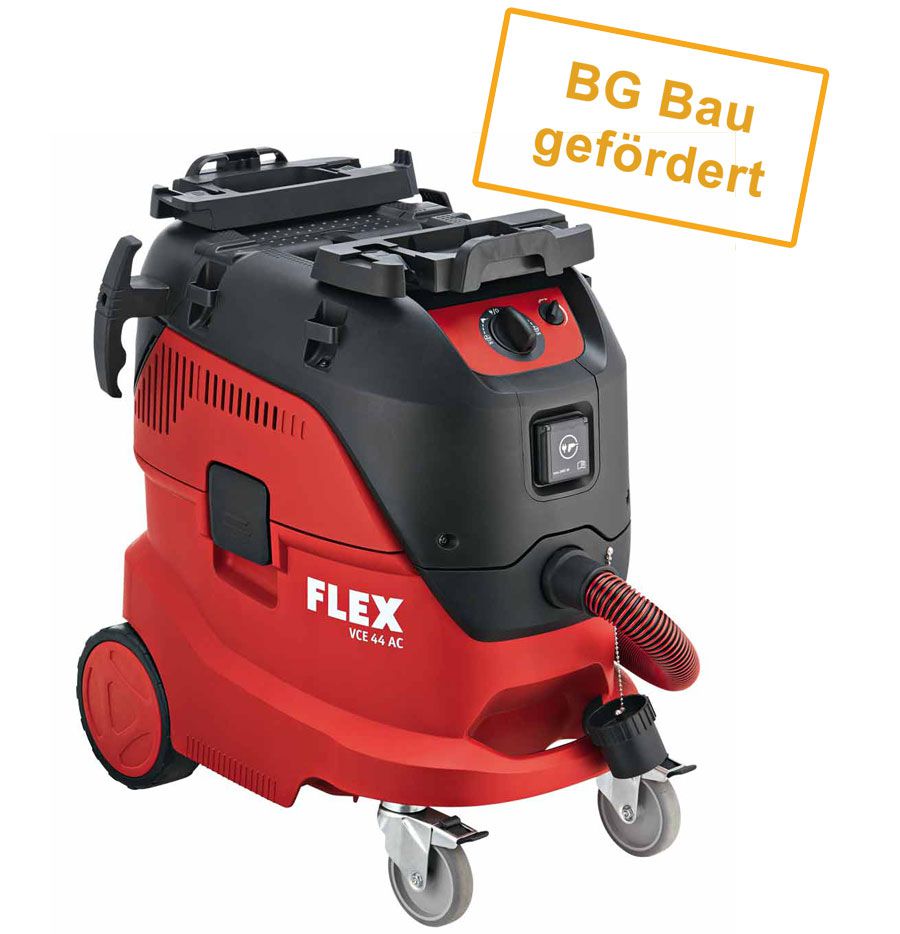 Dust levels on construction sites, which can be enormous in some cases, continue to rise and the regulations for dust-free working will most likely be even more stringent in the coming months. The effects of dust on the human body cannot be neglected. Inhalation can have far-reaching consequences on the respiratory tract, which can lead from short-term breathing difficulties to chronic asthma. Inhaled dust settles in the lungs and impairs their function immensely.

However, there are simple aids that significantly reduce dust exposure. One of them is the FLEX special vacuum cleaner for mineral dust, art. 40569, which is sponsored by the BG Bau (German Construction Industry Association).

Due to its high-performance turbine, the vacuum cleaner generates a high vacuum, which makes the suction power very high. The automatic filter cleaning keeps the suction power of the vacuum cleaner constantly high.
The advantages of the special class M vacuum cleaner from FLEX:
High performance turbine for high negative pressure
automatic filter cleaning for constantly high suction power
for all mineral dusts
with switch-off delay of approx. 15 seconds to remove residual dust in the hose
Click here for the special vacuum cleaner from FLEX

The application forms for BG Bau-Förderung can be found with the respective product. BG Bau-Förderung only applies to marked products. Conditions for the promotion can be found on the application form of BG Bau for the respective product.

If you have any questions about occupational safety and ergonomic products in our range, simply call us.

Tel. 08667 878-0

e-mail: info@dahm-werkzeuge.de