starting
EUR 8,95
excl. VAT
starting
EUR 10,65
incl. VAT
starting
EUR 9,85
excl. VAT
starting
EUR 11,72
incl. VAT
BG Bau buy subsidized products from KARL DAHM and get up to 50% of the purchase price refunded
We always strive to make our customers' everyday life on the construction site as safe and easy as possible with the help of our tools. At KARL DAHM you will only find products that have been thoroughly tested and found to be safe.
benefit from accident insurance for their employees, as well as from special benefits that make membership very interesting. BG Bau services is the promotion of ergonomic and also practical products that make work easier and protect the health of our customers.
BG Bau products conveyed by KARL DAHM
KARL DAHM customers know that we place the highest value on the quality and safety of our tools. Health protection should be the top priority for every tiler. Many products in the KARL DAHM range support you in your work and in maintaining your health. Selected products are additionally supported by BG Bau. For these products you can get up to 50% of the purchase price refunded.

.
BG Bau Conveyor for the KARL DAHM Universal Work Table Art. 11997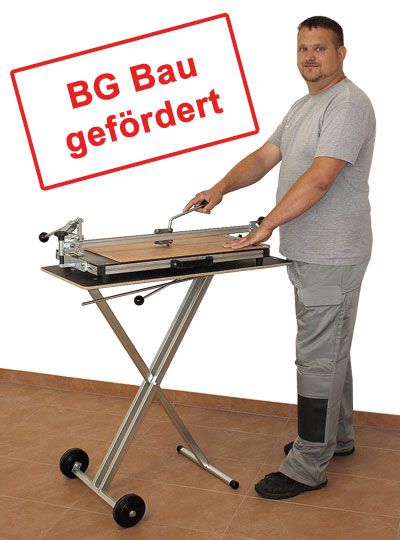 The advantages of the Universal Work Table from KARL DAHM:
infinitely height adjustable from 70-90 cm -> individually adjustable to any body height
suitable for all standard tile cutters up to cutting length 720 mm /li> safe stand is guaranteed
Here you can find the Work Table Universal Art. 11997
BG Bau Conveyor for the KARL DAHM aluminium work platform Art. 11004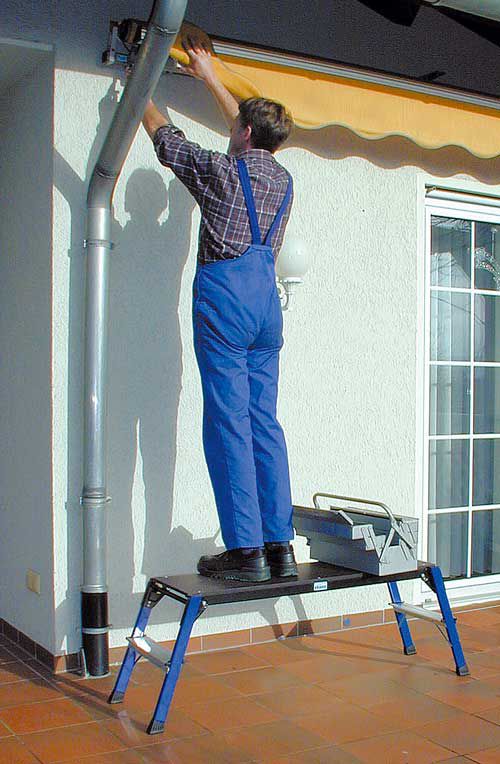 How often do you experience it that you "just get on the beverage crate" to do something that is just out of reach. Here an accident has happened quickly! The crate topples over, you fall and most likely get hurt. Such accidents and their often far-reaching and unforeseen consequences can and should be avoided.
KARL DAHM work platform, you are much safer and better off.
The advantages of the work platform Art. 11004
non-slip, large standing surface, which is waterproof
integrated folding lock for a safe stand
made of light aluminium