starting
EUR 7,90
excl. VAT
starting
EUR 9,16
incl. VAT
starting
EUR 9,50
excl. VAT
starting
EUR 11,02
incl. VAT
starting
EUR 494,50
excl. VAT
starting
EUR 573,62
incl. VAT
Welcome to the Karl Dahm online shop in the category for tile cutters, tile cutting machine and tile cutting machine
Tile cutter - Basics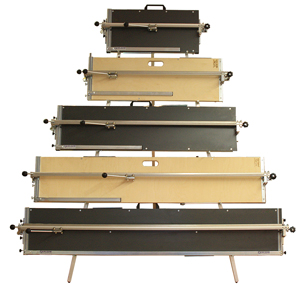 Here you will find all the necessary information you need to know about tile cutters in general. This shop offers you tile cutters, such as hand-held tile cutters or electric tile cutters, also tile cutting machines and all types of tile cutters that are available on the market.
The most used tile cutter in the professional sector is certainly the hand-held tile cutter. This is available for example as a glass tile cutter, which looks like a pen with hard metal cutting wheels or a tile cutting machine. It has a complete base frame (usually made of wood or metal) and one (or two) parallel metal cutting edges, also known as a guide rail. This is a tile cutter with a built-in guide rail on which a cutting wheel, guided by a cutting lever, runs to score the tile.
A tile cutter of this type is available in a wide variety of designs in terms of shape, material and colour, but also in terms of the different cutting lengths. There are different cutting lengths of the tile cutters for the reason that there are many different tiles, ceramics, porcelain stoneware, glass etc. in different sizes and material strengths and thicknesses to be cut and broken. Natural stones are only suitable for cutting with diamond discs and a wet tile cutter.
Tile cutter for large formats
In the Karl Dahm Online Shop you will find all cutting lengths you need. The maximum cutting length of the hand-held tile cutting machine is 185 cm. However, if you have larger materials to cut, Karl Dahm offers you a cutting ruler for large formats. This is the tile cutter maximum. With this you can cut formats over 3.5 m. Details can be found here.

The subject of large formats is becoming an increasingly important issue in laying. This naturally also has an effect on the development of tile cutters. It has always been a concern of the Karl Dahm company to support its customers with the best possible and helpful tools for processing different materials. Not only the materials to be processed change, but also the tools belonging to them, such as tile cutters and tile cutting machines. Tile cutters must improve and keep up with the times, adapting to changing needs and fashions. Electric tile cutters in turn are also known as stone cutting machines for natural and artificial stone as well as notches in the tile material. These tile cutting machines range from the one-man machine to the large tile cutters, where the use of at least two people is necessary for assembly and dismantling. Details of electric tile cutters can be found here. Again there are also electric tile cutting machines in smaller sizes. These are hand-guided tile cutting machines and are usually equipped with a diamond cutting disc and a guide ruler.

There is no tile for which there is not also the right tool for easy processing.
Tile cutter - cutting tiles
The basis of every good tiling job is the choice of the right tool
This means for every tiler:
Without a high quality tile cutter you cannot

The tile cutter enables the tiler to process different materials such as tiles, porcelain stoneware, stoneware and glass tiles in specific shapes and sizes.
The variety and choice of different lengths of tile cutters has evolved over the years due to fashion and design trends, especially in the field of materials to be processed and cut in the tile sector. The trend towards large format tiles, with a wide variety of surface structures and materials, especially in the field of bathroom and living room design, has increased significantly. Not only in the private sector, but also in public areas, e.g. in railway stations or department stores, this trend is clearly continuing and has become indispensable. For some time now, a new generation of laying material with a minimized thickness (=4 mm) has been available on the tile market. The tiles are also available in sizes of 3.50 metres and have a high dimensional accuracy, as they are only cut to the desired format after firing. Their breaking strength is significantly lower than that of conventional tiles due to their low thickness.

A whole range of technical aspects must be taken into account when processing these products. These tile trends of recent years represent a major technical challenge for the tiler. Cutting the tiles, the laying techniques are becoming more and more extensive, detailed and difficult due to individual developments. Whereas the standard tile size used to be 15 x 15 cm, the trend today is clearly towards 1 m x 1 m and larger. This means that the tiler, as a specialist, must acquire and bring with him more know-how and experience in dealing with large formats.
Cutting and laying the perfect tile - the daily challenge for the tiler
Our tile cutters help you to present your customers with a perfect result.
So that the tile cutting also works perfectly with large tile formats,

the company Karl Dahm und Partner GmbH is always developing new tools to facilitate the work on the building site and especially the work for the tiler.
The company Karl Dahm und Partner GmbH - your contact in the field of tiling supplies and professional tools

Your new tile cutter is waiting for you!

Here we show you an example from our product range of hand-held tile cutters from the company Karl Dahm:
Tile cutter Dahm High Line 1630 mm - All advantages at a glance:
 
Tile cutter Dahm High Line with cutting length of 1630 mm Art. 11357

Here are some product details of the tile cutter Dahm High Line:


The tile cutter Dahm High Line is an absolute novelty in the field of tile cutters. This tile cutter guarantees a straight and exact cut like no other tile cutter
The High-Line tile cutter has an extra wide wooden support board, so that the large format tiles and slabs can be safely placed on the tile cutter
The tile cutter board has a width of 35 cm
To the left and right of the tile cutter, two side arms are attached
These four side arms extend the support surface of the tile cutter by 25 cm each, so the High-Line tile cutter has a total support surface of 85 cm
Furthermore, the side arms of this tile cutter are additionally reinforced at the bottom, so that even large tiles with a high dead weight do not cause the cutter to wobble and a firm stand of the cutter is guaranteed
Another new development in this tile cutter is the new, patented guide rail. This guide rail is no longer double-guided, but only consists of a single-guided guide rail. This offers a higher stability when scoring the tile. Odd cuts are almost impossible with this guide rail.
The breaking device on the High-Line tile cutter is integrated at the rear end of the guide rail. In order to bring large slabs effortlessly into the crushing device of the tile cutter, small wheels are attached to the sides of the supporting surface. With these wheels, the slab can be moved effortlessly to the breaking device of the tile cutter
With a total weight of max. 37 kg, this tile cutter can be used on any construction site without great effort. Thanks to the integrated handle, the transport of the tile cutter can be carried out effortlessly by one person
The attached scale has also been further developed on the High Line tile cutter and is now easier to read. In case of too much wear or dirt this scale can be replaced
The carbide wheel for scoring the materials is included in the price of all High Line tile cutters. It can be easily removed and replaced by a new wheel
Furthermore, we offer you the possibility to have your cutting wheels of the tile cutter regrinded (not possible for wheels with titanium coating!).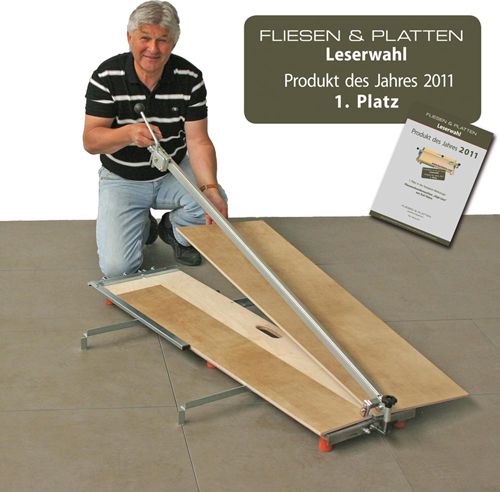 Tile cutter Dahm High Line was voted product of the year by the readers of the magazine Fliesen & Platten
Do you have any questions or would you like personal advice about tile cutting machines? Please call us or write to us! Tel. +49 8667 878-0 E-Mail: info@dahm-werkzeuge.de Advice before purchase and service in technical matters is our top priority. Nearly all products are in stock and immediately available.

Let us convince you of our tiling tools and their quality