Tile cutter - tile cutting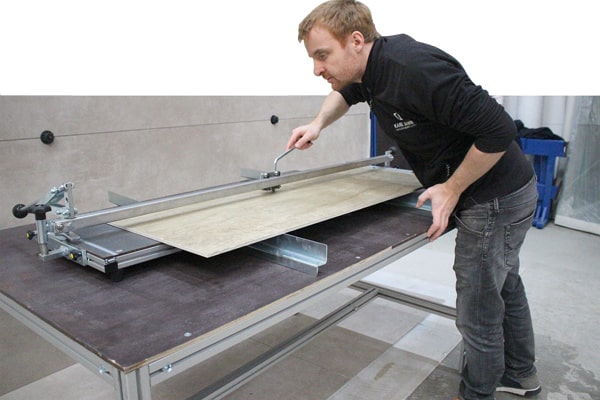 The basis of every good tiling job is the choice of the right tool.

This means for every tiler - without the right tile cutter it is not possible

A tile cutter is a tool that is mainly used by tilers.
Every person is different. This also means that every tiler is different - and everyone has their own preferences when it comes to tools. Particularly when it comes to tile cutting, every tiler has different requirements that the tool has to meet so that the work is done well and with pleasure. About tile cutters you can say that this is the most important tool of every tiler. The tile cutter enables the tiler to work on different materials such as tiles, porcelain stoneware, stoneware and glass tiles in certain shapes and sizes.

A tile cutter is part of the basic equipment of every tiler and is often the first purchase in the professional career. The most traditional type of tile cutter in Germany is the tile cutter with wooden board. Tile cutter with wooden board you can see here. The choice of which tile cutter is required also depends on the circumstances, as well as the properties of the ceramic tile and the substrate. The tiler has various options for cutting tiles: - You can score the surface with a hand-held tile cutter to create a predetermined breaking point - or you can cut the tile in two with an electric tile cutter.
The hand-held tile cutter
NEW NEW NEW:

Tile cutter High Line Plus | 630 mm cutting length Art. No. 12342
or "manual tile cutter" has a so-called cutting wheel made of hard metal, with or without titanium coating. To cut the tiles, the carbide wheel, which is mounted in the cutting arm of the tile cutter, is lowered onto the tile and pressed over the sensitive glaze of the ceramic surface along the guide rail over the tile with pressure. This creates a predetermined breaking point on the tile, which is then broken using a breaking device or crushing tongs. Therefore, strictly speaking, the tiles are not cut but broken. In trade circles, however, the term tile cutting or tile cutting is used. Depending on the shape, size, thickness and weight of the tile, the existing crushing device on the tile cutter or a special crusher can be used. Also the conventional / traditional way, the pure muscle power has its justification. For this purpose the tile is placed on the edge of the tile cutter. The pressure on the tile causes it to break along the cutting line. Likewise, conventional glass cutters, which work on the principle of scratch-break, can be used excellently for tile cutting. The use of hand-held tile cutters allows the tiler to make more individual cuts, which is particularly useful for creating a mosaic.
The advantages of the hand-held tile cutter:
precise working with the tile cutter - due to the wooden plate and the rough surface the tile cannot slip away.
A very low dead weight of the tile cutter
By means of handles milled into the wooden board, the tile cutter can be transported easily and without problems, even with long cutting lengths (or by means of additional transport wheels art. no. 11 382).

Just as there is a wide variety of tile colours and shapes, you will also find different cutting lengths in our category of hand-held tile cutters. The cutting lengths vary and depend, among other things, on the different tile trends of recent years. We, the company Karl Dahm und Partner as manufacturer and specialist for tile cutters, offer you tile cutters up to a cutting length of 1850 mm .
The smallest size of the hand-held tile cutters has a cutting length of 370 mm. Other cutting lengths are 610, 860, 930 mm, as well as cutting lengths of 1000, 1280, 1630 mm and - currently the longest cutting length at Karl Dahm - 1850 mm. From a tile cutter cutting length of 930 mm we speak of a large format tile cutter. With a cutting length of a tile cutter with/from 930 mm a diagonal cut of a 60 cm tile is possible. The next larger cutting length of tile cutters is 1000 mm, 1280 mm 1630 mm and 1850 mm. This variety and choice of different cutting lengths has developed over the years due to fashion and design trends, especially in the field of materials to be processed and cut, on the tile market. The trend towards large-format tiles with a wide variety of surface structures and materials, especially in bathroom and living room design, has increased significantly. Not only in the private sector, but also in public areas, e.g. in railway stations or department stores, this trend is clearly continuing and has become indispensable. For some time now, a new generation of laying material with a minimized thickness (=4 mm) has been available on the tile market. The tiles are also available in sizes of 1-3 metres and have a high dimensional accuracy, as they are cut to the required size only after firing. Their breaking strength is significantly lower than that of conventional tiles due to their low thickness. A whole range of technical aspects must be taken into account when processing these products. These tile trends of the last few years represent a major processing challenge for the tiler. Tile cutting and laying techniques are becoming more and more extensive, detailed and difficult due to individual developments. Whereas the standard tile size used to be 15 x 15 cm, the trend is clearly moving towards 1 m x 1 m and larger.
You can cut the following materials with a hand-held tile cutter:
Tiles
Porcelain stoneware
Natural stone
cast stone
glazed tiles
up to 16 mm panel thickness in each case.

Some panels can also be cut up to 20 mm thick using dry cutting. However, this depends on the material and should definitely be tested beforehand.
Accessories tile cutter: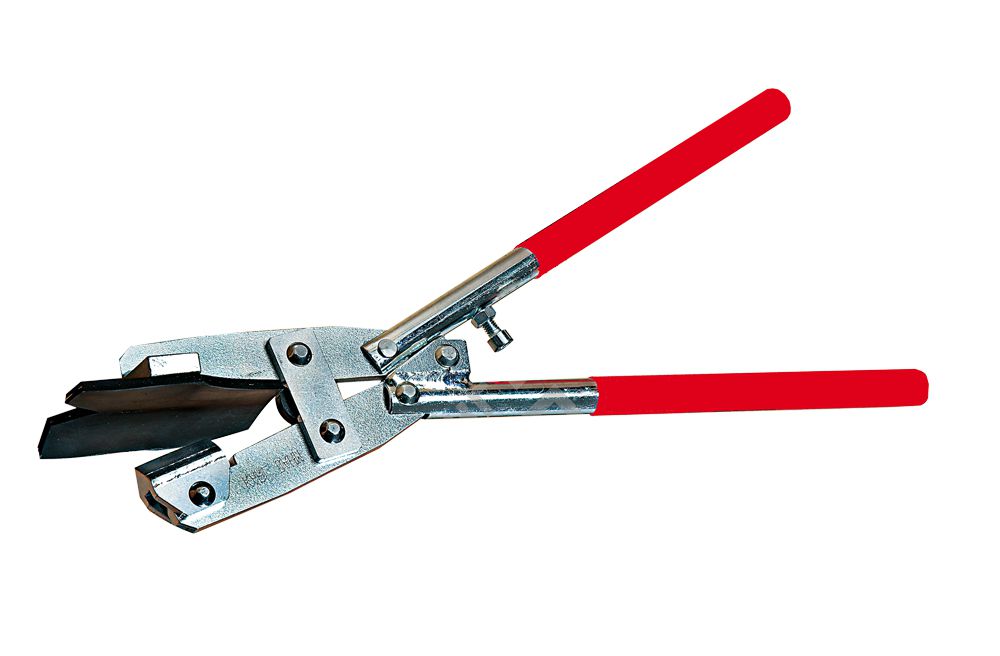 Art. 10889 Ideal crusher Dahm®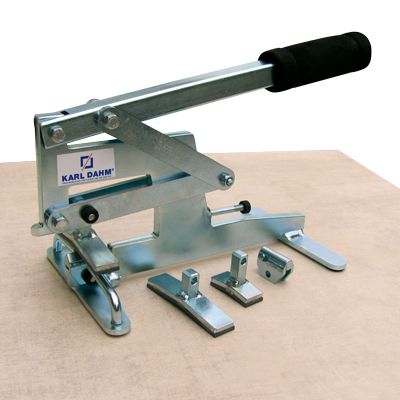 Art. 10990 Karl Dahm Superknacker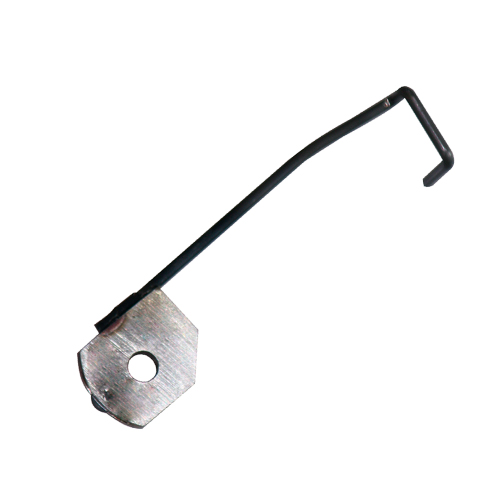 Art. 11363 Fine cutting wheel for High-Line tile cutter for sensitive glazes and surfaces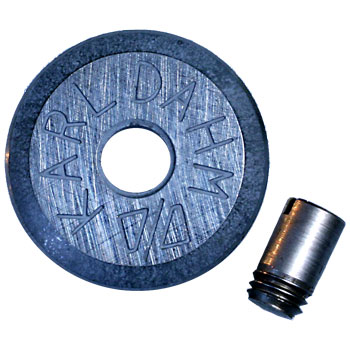 Art. 10354 Carbide spare wheel with axle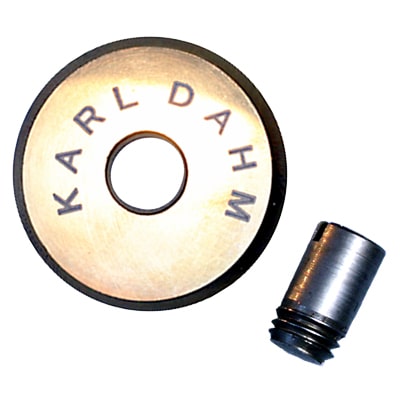 Art. 11309 Tile cutter spare wheel with titanium coating, incl. axle
The perfect tile cutting and laying with a tile cutter from Karl Dahm
The daily challenge of the tiler

We are happy to help you with this. Karl Dahm und Partner GmbH is always developing new tools to make tiling and cutting large tile formats simple and precise. We want to make construction work, especially the work of the tiler, easier and more perfect.
The company Karl Dahm & Partner GmbH - your contact in the field of tile cutters, tiler requirements and tools
Tile cutter and its durability

Depending on quality and use, a tile cutter can cut for several years to decades without any problems. Cutting or scribing, as it is actually called, is done with this type of tile cutter with a carbide wheel. It is important to replace the tungsten carbide wheel and also the axle of the tile cutter in good time when it wears out. This also ensures a constant cutting quality. A tiler often keeps his tile cutter, which he acquired during his apprenticeship, in use for decades.
The tile cutter as a loyal companion at the tiler's side
If you have any questions please call or write to us!

Phone +49 8667 878-0; e-mail: info@dahm-werkzeuge.de

Tile cutter, tiles perfect, precise and simple
cutting - our quality standards at Karl Dahm
Let one of our tile cutters convince you!