starting
EUR 38,90
excl. VAT
starting
EUR 45,12
incl. VAT
starting
EUR 23,50
excl. VAT
starting
EUR 27,26
incl. VAT
starting
EUR 16,95
excl. VAT
starting
EUR 19,66
incl. VAT
starting
EUR 54,90
excl. VAT
starting
EUR 63,68
incl. VAT
starting
EUR 28,60
excl. VAT
starting
EUR 33,18
incl. VAT
starting
EUR 78,50
excl. VAT
starting
EUR 91,06
incl. VAT
0,05 Liter (EUR 31,37 / 100 ml)
starting
EUR 129,80
excl. VAT
starting
EUR 150,57
incl. VAT
Diamond drill bits for tiles
In this category you will find diamond drill bits for the optimal processing of your tiles. From dry to wet applications, we have diamond core bits in various diameters for you in our range.
Diamond core bits for tiles - wet
For wet application we offer the following drill bits individually:

The diamond core bits for wet cutting are also available in a cheaper set, item no. 50190
The set 50190 contains: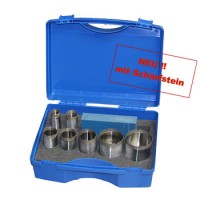 7 x drill bits (Ø 28 mm, 35 mm, 40 mm, 45 mm, 50 mm, 68 mm, 75 mm)
1 x diamond sharpening stone Karl Dahm
The diamond drill bits included in the set are perfect for drilling holes in tiles, natural stone, granite, ceramic, mosaic, porcelain stoneware and glass tiles.

The advantages of our high-performance diamond core bits:
no cracking
faster drilling, less material breakout
direct drilling at the material edge
best results in combination with our drill rig
The maximum drilling depth of these diamond drill bits is 60 mm.
Furthermore, our drill bits are characterized by the following details:
Connection: 1/2" external thread
Connection: 1/2" thread for flushing socket
for upright and handheld drilling machines (e.g. drill stand, Art. 40103)
for cordless screwdrivers with water rinsing head
for angle grinders with water supply

The set also includes our diamond grinding stone, item no. 20050.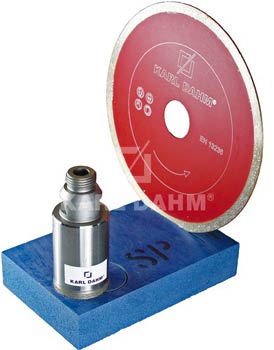 With our diamond sharpening stone (dimensions: 155 x 100 x 30) the diamonds are exposed again, so that you can cut perfectly again. Please note, however, to use the grindstone in dry cutting! Save valuable working time and save material. The sharpening stone is also characterized by its long durability.
Diamond core bits for tiles - Dry
For dry application we offer the following gold drill bits individually:

Our gold drill bits are also available here as a combination in a set, item no. 50234.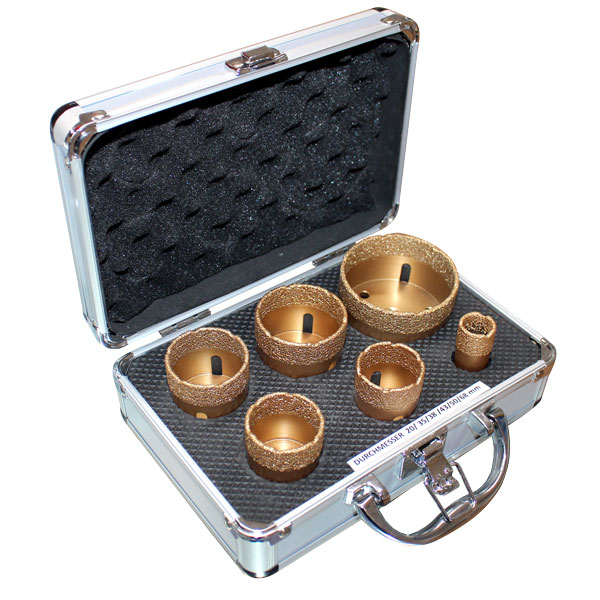 The set "Gold Edition" consists of diamond core bits with M14 receptacle. Therefore each individual drill bit is suitable for the angle grinder art. no. 40253.

The following diameters are included in the set:
20 mm, 35 mm, 38 mm, 43 mm, 50 mm, 68 mm


Another diamond core bit set for dry cutting is our Karl Dahm diamond dry core bit set, art. no. 50235, which includes six core bits with different diameters: Ø 27 mm, 35 mm, 40 mm, 50 mm, 60 mm, 65 mm. Also here the application with the angle grinder art. 40253 is perfect. You can drill holes quickly and precisely - ideally without water cooling in materials such as porcelain stoneware, marble or granite.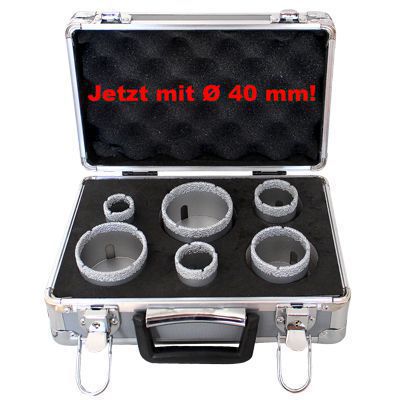 In our Karl Dahm assortment we also have diamond drill bits for you, with which you can drill both dry and wet. These are our drill bits with bit holder. Here we also offer you different diameters:
These drill bits can be used with any cordless screwdriver. In addition to the bit holder, they also have a paraffin cooling system. Therefore our cooling gel, art. no. 50364 can also be used with these diamond core bits. The cooling gel serves for dust-free drilling with diamond core bits. The cooling gel suppresses the spread of dust and cools the dry core bits during drilling. Furthermore, the cooling gel can also be used in the wall area due to its viscous consistency. It is easy to remove and cools the dry core bits effectively.

Some of the drill bits can be used with our drill stand KDB-200, art. no. 40103. With this sturdily constructed drill stand you can drill holes precisely into the hardest materials such as porcelain stoneware and natural stone with very little effort. The device is used for wet cutting. Due to the integrated pump, the drill bit can be continuously supplied with water. Series drillings are therefore particularly suitable. As the drill stand can be separated from the water tray, the drill stand can also be placed directly on the material and easily transported. The transport handles also make it easy to transport. The speed is infinitely variable by means of the adjusting wheel, the speed constant control is electronic. The power consumption of the drill rig is 1150 W, the nominal voltage 230 V. The nominal speed is 250 to 1000 revolutions per minute. The weight of this machine is 20.9 kilos and the drilling range is 6 - 120 mm. You can use all wet drill bits with the Karl Dahm drill stand 200.
We also offer other diamond core drill bit sets:
Convince yourself of our diamond drill bits / diamond tools!


Our employees are available to you for advice and support! Please contact us!

E-mail: info@dahm-werkzeuge.de Phone: +49 (0) 8667/ 878-0 WhatsApp: +49 (0) 176 1000 161